The Cleanbox is a device designed to clean, sanitize and dry non-flat conveyor belts. This device dispenses steam from both the upper and lower levels of the box and also incorporates a recovery system that removes the residue and contaminants.  This whole process is all done detergent free.
For  some  tougher scenarios, high pressure/hot water can be added to the box, making a powerful method to remove residue from  non-flat conveyor belts.  This combination of high pressure/hot water, steam and vacuum, once again all detergent free,  leaves no organic residue behind. With this new technology we are able to reach the required sanitation standards that the industry demands.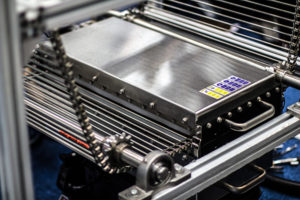 Features Include:
Devices starting 12"and up.
Projects are custom made. Everything is designed and built according to the clients' specifications.
Cleanbox system can be adapted to work with wire mesh, stainless steel rod chain and intralox conveyor belts among others.
Cleanbox system can work either with an electric or a pneumatic vacuum.
For toughest cleaning challenges, the Cleanbox system can implement hot pressurized water along with steam and vacuum.
FPS's Cleanbox system reaches the sanitation standards that the industry demands.
Increase Productivity by reducing cleaning times.
Automate the tedious task of manually cleaning the production lines and increase safety for the cleaning staff.
FPS's Cleanbox system reduces water waste.
Falcon ProSolutions Cleanbox