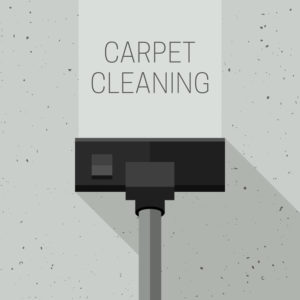 Carpets can add a much needed air of comfort and design to a room, but they tend to take a huge amount of wear from constant foot traffic. They should be cleaned regularly, and using a commercial carpet steam cleaner is the best way to do that. Steam eliminates approximately 99% of common germs and bacteria, such as salmonella, E.Coli, bed bugs, dust mites, and staph. If you spot any of the common signs of carpet uncleanliness, it's high time to start steam cleaning your carpets.
A funky odor
If there's an unidentifiable odor lingering around the room, it might be coming from bacteria trapped in your carpet. If the carpet got wet and was not properly treated or dried, mildew or mold might have grown underneath it and can now cause a serious health risk in addition to producing an unpleasant odor. The wetness of a carpet may also release the smells of every other particle that's sunken into the carpets. To return the room to neutral, inoffensive smell and to protect the health of any occupants, use a commercial carpet steam cleaner to kill those tough-to-reach olfactory offenders.
Varying shades or dull spots
When your carpet is designed as one uniform color, it should remain that way. Compare sections of the carpet that are intended to be similarly-colored to see if they have morphed into different shades. Any variation of shading would be due to dirt buildup, likely because one area gets more foot traffic than others. In offices, this is typically around desks and reception, and in restaurants, it is near the entrance as customers wipe off their shoes. Steam cleaning systems can also give new life to dull-looking carpets. If the carpets are older they are sure to have dimmed from their original glory after years of being walked on, but a steaming can make them look new again.
Stains that stick around
As carpets catch the dirt and dust brought in on shoes, they also catch everything we spill. Typically, stains are the most obvious sign that your carpets need to be steamed. Even if you can ignore the unattractive look of stains, they are the main culprit of mold growth when left untreated. There are plenty of stain removers you can buy in stores, but the wrong ones may permanently damage your carpets. When the stain is deep, it may even reappear after you've attempted to clean it, and that means that you will likely never get rid of it with simple cleaners.
Using a commercial carpet steam cleaner guarantees that you are getting rid of bacteria and germs that have gone into the sunken place of your carpet's fibers and that you're creating the healthiest environment possible.