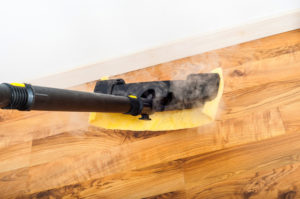 If you're employed in the hospitality industry, you probably understand the importance of maintaining clean and sanitized bathrooms for employee and customer use. Unsanitary bathrooms can harbor bacteria, germs, mold, mildew, and any number of contaminants. Not only that, but an unclean bathroom will turn off customers just as quickly as bad customer service.
In order to keep bathrooms clean and customers happy, it's important to approach the bathroom cleaning process with purpose. Here are a few tips for keeping your business's restrooms as clean as possible all year round.
Avoid Cross Contamination
Everybody knows that the nature of bathrooms requires that pretty much everything in them will be touched constantly: Sinks, door handles, urinals, toilet paper and feminine hygiene dispensers, flushing levers, hand dryers, and more. The best way to avoid the risk of transmitting pathogens by human contact is to use a commercial steam cleaning machine to disinfect all surfaces in regular cleaning sessions. You should also make sure your cleaning staff understands the importance of sanitizing all tools such as mops and brushes. Keep in mind that keeping a trash receptacle by the exit makes it easy for users to prevent the further spread of germs by enabling them to grab the door handle with a paper towel instead of their bare hand.
Don't Rush
One aspect of both residential and industrial bathroom sanitizing is knowing how long to linger on each task. For most commercial disinfectant products to be effective at sanitizing the surface, they must be left on for a certain amount of time. Keep in mind that this only applies to chemical-based cleaners and not to steam cleaning systems. In fact, studies show that superheated steam cleaned faucet handles and paper towel dispenser handles have 1/10th as many germs as those cleaned with traditional chemical methods, which is another reason many prefer them over bottled, chemical-based disinfectants.
Make A Checklist
Even though sanitation is arguably the most important aspect of cleaning a public restroom, it isn't the only one. It's always a good idea to make an exhaustive list of each task that is considered part of the cleaning process. This list should include both sanitation procedures as well as more practical and aesthetic concerns, such as the restocking of supplies, inspection of plumbing fixtures, and checks for graffiti or other forms of damage. While cleaning the floors with a commercial steam cleaning machine is important, that's only one aspect of maintaining a clean and tidy restroom. Making a complete list ensures that no step goes undone.
Ultimately, taking these tips into consideration can help your business maintain cleaner bathrooms and provide a better overall customer experience. For more information about commercial dry steam cleaners, contact Falcon Prosolutions, Inc.