Restroom Sanitation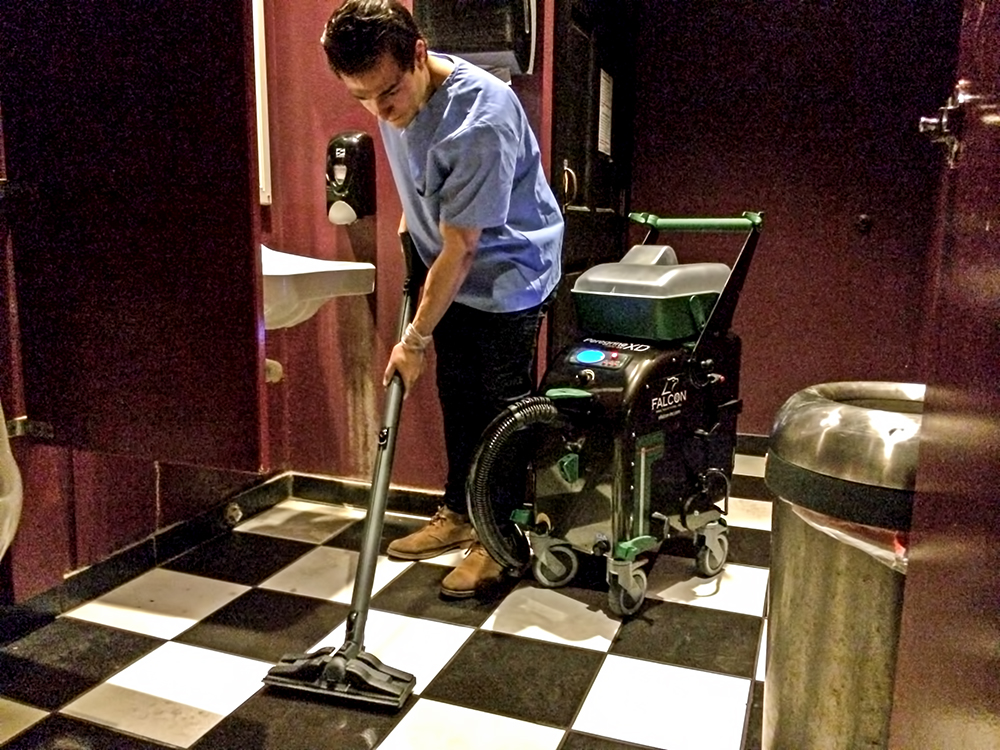 Restrooms are the number-one concern of most cleaning professionals. There are more customer complaints about "dirty" restrooms than all other categories combined. Studies show that while they represent less than 5% of the total space cleaned, they take up over 35% of the labor of the cleaning staff and over 25% of the chemicals used in the cleaning process. The impact of a new way to clean this critical area cannot be understated.
Dry Vapor Steam (DVS) has been around for many years. However, until the recent introduction of the Peregrine Series Steamer from Falcon ProSolutions, the ability to effectively use this technology to clean restrooms has been limited due to machine and tool design. With the introduction of the Peregrine 1800SV and XD models, these limitations melt away!
Dry Vapor Steams allows you to clean a restroom with less water than you would use to wash your hands!
DVS is an ideal way to reduce labor, chemicals, and complaints. DVS both cleans and sanitizes in one step. The vapor penetrates into irregular surfaces, cracks, and crevices we face every day in our cleaning tasks. DVS effectively lifts the soils and microbes away quickly and efficiently with minimal labor. Rather than use the current "pressure washer principle" to clean surfaces with chemicals and copious amounts of water; Dry Vapor Steams allows you to clean a restroom with less water than you would use to wash your hands! This makes DVS an ideal technology to clean all delicate surfaces like painted drywall, finished VCT floors, and older painted partitions, all without damaging or affecting the surface. It leaves the bathroom clean, odor-free, AND ready to use as soon as the cleaning staff moves on to the next area.
How it works
The heat from DVS (+200˚F) kills all forms of microbial life and eliminates organic and inorganic soils, all without the need for chemicals. Steam kills germs by super-heating and destroying the cell wall (think hard-boiled egg!) The steam is also ideal for dissolving hard-water deposits, greasy soils, and general dirt. Have problems keeping your grouted floors clean? Not with the Peregrine; your grout is cleaned every time you clean your floor! Eliminate odors caused by body fluids in a snap! Request our Steam Cleaning Technology White Paper for more information.
Restroom Applications
Restroom Kit