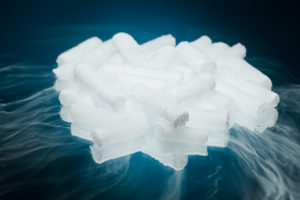 If you need the best in cleaning technology, utilizing dry ice blasting — or CO2 blasting — is the best way to clean even difficult-to-clean locations. But what is CO2 blasting and how does it work?
What is it?
Dry ice blasting is a type of cleaning that uses highly pressurized dry ice to clean surfaces. Dry ice is a solid form of carbon dioxide. Carbon dioxide blasting is incredibly cold, eco-friendly, and doesn't rely on harsh chemicals to clean.
How does it work?
A dry ice blasting machine rental propels pellets of carbon dioxide at incredibly high speeds to cause sublimation. Sublimation occurs when a solid transforms directly into a gas without entering the liquid stage. This happens with incredibly cold materials, like carbon dioxide, is rapidly heating, thus releasing energy. This energy can be used to clean, such as in CO2 blasting. When the pellet sublimates upon hitting the surface, a small amount of abrasion is caused, resulting in the cleaning of materials and surfaces. It also relies on extreme temperature differences to shrink and contract the substrate.
Is it similar to sandblasting?
Both of these types of blasting are a form of abrasive cleaning. Unlike sandblasting, dry ice blasting doesn't affect the substrate of the material its cleaning due to its soft sublimation. Dry ice blasting uses high temperatures but low moisture vapors. This type of cleaning only contains 5% to 6% water, offering no possibility of moisture damage or substrate damage. Sandblasting can damage the substrate.
Can anyone use it?
People who use carbon dioxide for cleaning purposes need to be trained to use it and wear the proper materials during application. This includes insulated gloves and eye protection, and a proper form of ventilation.
What does it clean?
CO2 blasting can clean most smooth surfaces and hard-to-reach spaces within machinery. It's a great option for both commercial and industrial factory settings due to the fact it doesn't leave a residue after cleaning. This makes it a great option for medical industries and aerospace applications.
When used correctly, dry ice blasting is a great way to clean hard-to-maintain equipment, machinery, and surfaces. For more information on dry vapor steamers or dry ice blasting equipment, call Falcon Prosolutions Inc. today.