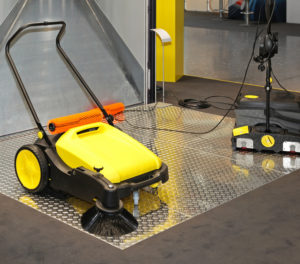 If you work in education, hospitality, or healthcare, steam cleaning systems are the way to go. They provide highly effective cleaning and sanitation without the use of chemicals or excessive water. But while all of our commercial dry steam cleaners are excellent quality and value, certain products are designed with specific environments in mind.
Fortunately, we carry a huge selection of commercial steam generators, so you'll never have to worry about whether or not we have one that's suited to your needs. We understand how critical it is to have industrial steam cleaners that help your organization meet its standards. We're more than happy to make personal recommendations about what type and model of industrial steam cleaners will work best for you. However, if you need a place to start, here are a few recommendations:
If you require high-volume cleaning, consider the Hawk Series
The perfect blend of performance and value, Hawk industrial steam generators are ideal for hotels and schools. Housekeeping and janitorial staff members will be easily able to fit these cleaners on their carts. But don't be fooled by their small size! These commercial dry steam cleaners can clean and sanitize a seemingly endless number of rooms.
Steam cleaning is also the best option for those in the hospitality industry who are worried about pest infestations; steam kills bed bugs in spaces of up to 2 and 3/8″ into a gap or up to 3/4″ into fabric surfaces.
Whether you need to clean bedrooms, bathrooms, or classrooms, the Hawk Series of commercial dry steam cleaners won't let you down.
For strict standards, opt for Peregrine Series dry vapor steamers
The healthcare industry imposes strict sanitizing standards for the safety of both staff and patients. If you work in a hospital or medical facility, you'll want to ensure that your cleaning methods provide the best protection possible.
Many of our Peregrine models offer top-tier filtration and steam levels in order to meet and exceed these regulations. Because their boiler temperatures are higher than any other models on the market, they're able to sanitize much more effectively and without the use of harmful additives.
These models are also perfect for technology manufacturing facilities and food services. When you need to ensure total safety and sanitation, the Peregrine Series is the way to go.
To top it all off, many of the Hawk and Peregrine models offer both steam and vacuum options, which means that you won't have to use multiple types of equipment to get superior cleaning results. If you need additional guidance about which type of commercial steam cleaner will work best for your needs, please contact us today!