When it comes to effectiveness and productivity, the Raptor 9000 SV stands out from its competitors. It uses the same Intelligent Boiler Technology as our industry-leading Peregrine Series of Steam Generators, letting the operator know in advance when it's time to perform a descaling procedure. This 9000 Watt steamer has a dual-boiler (2x4500W) arrangement that provides up to 13lb/hr of Dry Vapor Steam Power. Operating at a constant 145 PSI and 356°F with no decrease in performance over prolonged use, this unit is the champion dirt hunter!
It has dual reservoirs that allow you to introduce chemicals through steam injection into the cleaning process. This increases the effectiveness of the cleaners as well as the cleaning process. The unit also has the ability to introduce "wet steam" when a greater impact is needed for the heaviest soil build up. With three different steam output levels, YOU get to choose how and when to use them based on your application and needs. The versatility of the Raptor 9000 SV is unparalleled in the industry.
On top of all of this, the Raptor 9000 SV incorporates a 1200 Watts/HEPA Filter vacuum making it easy and convenient for the operator to recover leftover residue while cleaning. To round up the previous features described, this unit comes with a complete set of tools for a wide variety of applications, making the Raptor 9000 SV a formidable industrial steam generator and vacuum combination.
Double Boiler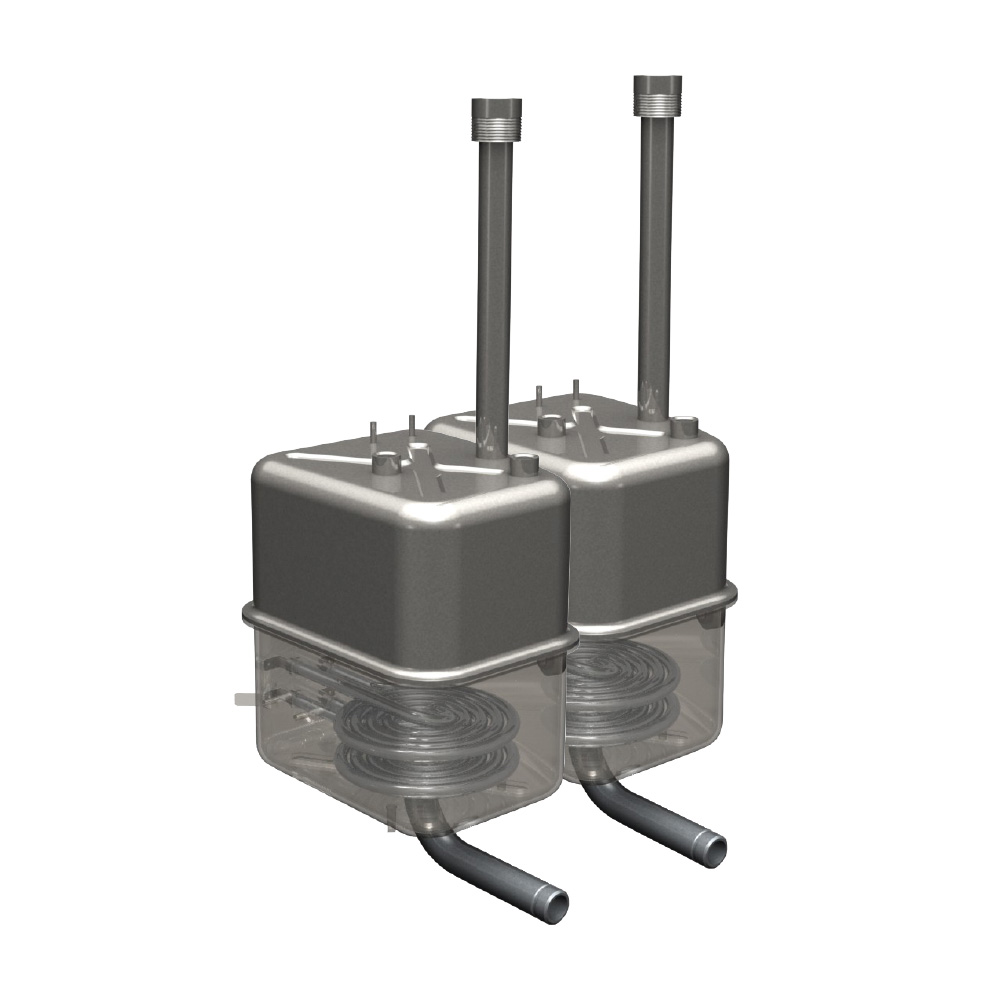 Voltage (V) - (Amps)
480 - 15
Power Cable Length (ft)
20
Time before Start (min)
3 - 4
Boiler Capacity (qt.)
2qt. - dual
Boiler Material
Stainless Steel
Boiler Power Usage (W)
2x (1500x3)
Boiler Pressure (psi)
145
Continuous Water Refill
Yes
Power of Water Pump (W)
110V + 48W
Electronic Display for Work Functions
Yes
Steam Pressure in Boiler (°F)
356
Safety Switch Temperature (°F)
392
Steam Supply (lb/hour)
10 - ­13
Adjustable Steam Supply Regulation
Yes
Steam Temperature at Nozzle (°F)
302
Water Tank Material
Polyethylene
Water Tank Capacity -2ea. (gal)
1.3 + 1.3
Detergent Supply (gal)
Dual 1.3
Detergent Supply Regulation
Fully Variable
Power Detergent Pump (W)
48 (2x)
Vacuum Motor Type
By-Pass
Vacuum Motor Power (W)
1200
Vacuum Type of Filter
Paper Cartridge
Capacity of Vacuum Recovery Tank (gal)
2
Vacuum Mechanical Float shut - off
Yes
Dimensions (L x W x H)
37" X 19" X 41"
Shipping Dimensions (L x W x H)
46" x 32" x 49"