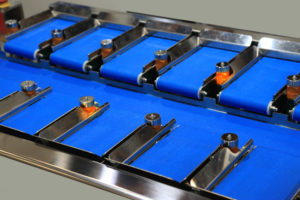 In the food manufacturing industry, safety and cleanliness should be a top priority. But all too often, we see stories on the news pertaining to food recalls. Many of the causes for these recalls originate in the manufacturing plants themselves. While there are many reasons for unsafe food contamination, they fall into three main types of hazards: biological, physical, or chemical. Biological contaminants are bacteria and viruses; physical hazards refer to things like dirt, hair, or other materials; and chemical contaminants can include pest control products or cleaning solvents. This last hazard is particularly important because the methods many manufacturers may use to disinfect their facilities may actually create an unsafe environment for production.
All manufacturers need to have a conveyor belt cleaning system in place to ensure quality and cleanliness. But a lot of conveyor belt cleaners and cleaning methods are totally counterintuitive. When you use chemical-laden commercial conveyor belt cleaners, you'll actually need to clean up after you clean up! The effectiveness of a conventional conveyor belt cleaning system heavily depends on those who perform it. For instance, when cloths and brushes are used for cleaning, there's a significant risk of cross-contamination and hygiene may be compromised.
Not only do these commercial conveyor belt cleaners rely on great attention to detail, but they also typically involve the use of harsh, potentially harmful chemicals. If these chemicals are left behind and make their way into food products, the results can be disastrous. One careless worker could indirectly cause illness or even fatality for countless customers.
That's why food manufacturers should be using ice blasting and a steam cleaning system. These methods much more effective than traditional cleaning solvents. Instead of having to utilize several types of cleaners for a job, you'll need to use only one process. In addition, they're much safer than chemical use. Both utilize different forms of an element that's so essential to our survival (water!) and they'll never put food safety at risk.
The use of steam cleaning and dry ice blasting will make your manufacturing process much more efficient and safe for everyone. To find out more about our commercial conveyor belt cleaners, contact Falcon Prosolutions today.