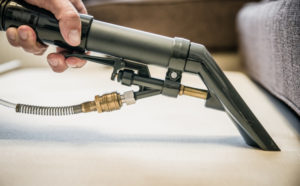 There are three main types of hazards or contaminants that can cause unsafe food: biological, chemical, and physical. Biological includes microorganisms; chemical includes cleaning solvents and pest control; and physical means hair, dirt, or other matter. And while there are a number of ways to eliminate these contaminants, very few are as consistently effective as dry vapor steaming. But before you invest in dry vapor steamers for your business, it's important to know the facts behind the technology. Here's a quick FAQ to help you determine whether or not dry vapor steaming technology may be the right cleaning solution for your business.
What is dry vapor steaming, and how does it work?
Dry vapor steaming is quite similar to other steam cleaning systems; however, they use much less water. The minimal amount of water used is heated to at least 240 degrees Fahrenheit to produce a steamed vapor that leaves no moisture or residue on the cleaned surface. These high temperatures clean and sanitize a surface simultaneously, eliminating the need for any type of cleaning solution.
What materials/surfaces can be cleaned with a dry vapor steam cleaner?
Dry vapor steam cleaners are much more versatile in their capabilities than chemical cleaners, which only remove materials on the surface and leave behind germs and bacteria. Dry vapor steamers, on the other hand, can thoroughly clean and remove all types of dirt, grime, dust, debris, residue, and even stains from hard and soft surfaces alike. Furthermore, dry vapor steaming can also remove mold, mildew, pet dander, and more. This quality makes dry vapor steaming a viable solution for preventing allergy symptoms as well.
Isn't dry vapor steam equipment expensive?
While traditional dry vapor steaming technology is an expensive investment, it's also an investment in the health and well-being of consumers. Plus, most businesses take advantage of all that the technology has to offer by choosing to rent it rather than buy it permanently. Don't hesitate to ask your local commercial cleaning equipment dealer for more information about rentals.
Ultimately, being aware of the benefits of dry vapor steaming can help you make the most of all the technology has to offer. For more information about industrial steamers, contact Falcon Prosolutions Inc.