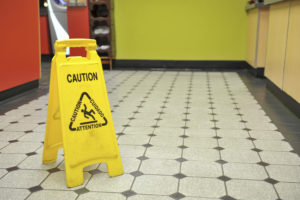 It may seem surprising, but it's true: about 29% of respondents to a survey said they'd never go back to a restaurant with unsanitary bathrooms. This means that regardless of how great your restaurant's food may be, it's not enough to keep customers coming back. You'll also have to stay diligent to ensure that your restaurant's bathrooms are cleaned and sanitized efficiently. With that in mind, here are just a few common restroom cleaning mistakes that could make customers not want to come back.
Not Developing (and Sticking to) a Strict Cleaning Schedule
First, many restaurants don't feel the need to set — and stick to — an organized and efficient cleaning and sanitation schedule for their bathrooms. They'll do it for the kitchen and dining area, but sometimes, the restrooms simply get neglected. It's understandable, but it's also easily preventable. Make sure to deep clean your restrooms regularly — even one skipped session could mean lost customers.
Not Using a Dry Vapor Steam Cleaner Rental
There's no question that steam cleaning is the most efficient restroom sanitation method, since steam cleaning systems eliminate chemical residues while sanitizing the surface being treated. Because so little water is consumed, approximately 1.5 quarts per hour, it's virtually "mess free". It's also very speedy: University of Washington's Odegard Library, used by up to 15,000 students each day, conducted a trial comparing a superheated steam cleaning system and their existing cleaning methods. Superheated steam took on average 42.5 minutes per restroom, compared to 46 minutes for the existing program. The bottom line is that if you're not using steam for restroom sanitation, you're not cleaning as well as you could be.
Underestimating the Importance of a Sanitary Restroom
If you just don't think restroom sanitation is important, think again. Aside from the potential for lost customers, an inadequately cleaned restroom can contribute to an overall germ-ridden environmental. Superheated steam cleaned faucet handles and paper towel dispenser handles had 1/10th as many germs as when cleaned with traditional methods. This means that any chefs, waiters, and kitchen staff members that use the restroom could pass these germs on while at work. Sanitary restrooms aren't just flashy; they're necessary for limiting the spread of germs.
Ultimately, keeping your restaurant's restrooms clean is just one extra step that ensures customers will come back time after time. For more information about dry vapor steam cleaner rentals, contact Falcon Prosolutions Inc.