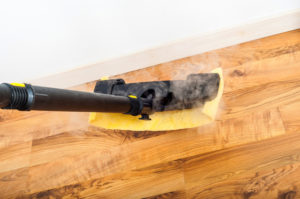 In the last post, we discussed how to deep clean your restaurant's restrooms and floors during the spring and summer cleaning season. Of course, maintaining a clean and aesthetically pleasing restaurant also requires you to pay significant attention to your kitchen, where employees spend the most time, and the dining room, where customers spend the most time.
Here's part two of our guide to spring and summer deep cleaning for restaurants, where we'll discuss how to thoroughly clean and sanitize the dining room and kitchen.
Kitchen
As mentioned, the kitchen is, by far, where your restaurant's chefs spend the most of their time. It's also the room that causes some restaurants to fail health code inspections. With this in mind, your kitchen may need to be cleaned several times throughout the day. But deep cleaning requires a number of extra steps that can make all the difference in the long-term cleanliness of your kitchen.
Start by cleaning out any drains, which can contribute to unpleasant odors. Drains can easily harbor bacteria, pests, and mold, all of which can hide from the human eye. Continue to use a commercial steam cleaner rental to sanitize surfaces and countertops.
The most important aspect of deep cleaning your restaurant's kitchen is moving each and every appliance and cleaning the area around them. Then, clean the appliance thoroughly before moving it back in place. The same goes for storage areas: in order to deep clean them properly, the items must be removed from shelves before they're wiped down and returned. That's just one reason why industrial kitchen cleaning can be such a tedious process — there are so many hard-to-reach areas that aren't considered for cleaning on a regular basis. But investing in a commercial steam cleaner rental is the best way to get the job done efficiently.
Dining Room
Finally, it's important to pay attention to your restaurant's dining room, which receives the most customer traffic. Start by making any necessary mechanical or aesthetic repairs to chairs and tables. Get any barstools with fabric damage reupholstered to regain your restaurant's visual appeal. The wooden chairs or tables may need to be re-sanded or otherwise refinished. It's much better to get this done before the summer season so that it positively affects customers' perception of your dining room.
Finally, make sure all dining room decor and light fixtures are dusted and cleaned properly. These accumulate dust faster than you'd imagine, and wiping them down helps them regain their shine and contribute to your restaurant's aesthetic appeal.
Ultimately, according to the U.S. Centers for Disease Control and Prevention, each year one in six Americans gets sick by consuming contaminated foods or beverages. Understanding how to deep clean all areas of your restaurant is the best way to maintain health standards and keep customers happy. For more information about commercial steam cleaner rentals and other steam cleaning systems, contact Falcon Prosolutions Inc.