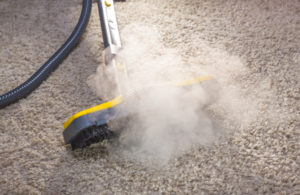 Steam cleaning is a popular cleaning method in homes and businesses. There are many different uses for steam cleaning, but it's also something that is still misunderstood by many people. This article takes a look at a few common myths about steam cleaning to clear things up.
A steam cleaner is the same thing as a carpet cleaner.
People often confuse a hot water extractor, or a carpet cleaner, with a steam cleaner. But in fact, they are very different and have different uses. A steam cleaner heats the water to the point of boiling, turning it from liquid to gas. This means that the water content of the steam is less than 10% and evaporates very quickly. Steam cleaners also do not act as vacuums, so they do not suck up any moisture or debris.
On the other hand, a carpet cleaner heats the water but it does not get turned into steam. When used to clean a carpet, it does suck up any debris in its path, but it also leaves the carpet wet. This can cause issues like mold if the area is not well-ventilated and the water does not dry quick enough.
Steam cleaning alone is great to use on carpets.
Looking back at the previous myth, we've already talked about the difference between a steam cleaner and a carpet cleaner. With that being said, there are options to get a specific carpet attachment for a steam cleaner. This can be helpful on commercial steam cleaning machines, where there is a large area of carpet to be cleaned. It's just important to remember to vacuum after using a steam cleaner, as it will not pick up any debris.
Steam cleaners can't be used on hardwood floors.
While it's true that excessive heat or water may cause damage to hardwood flooring, it also depends on what kind of hardwood, finishing, and steam cleaning method you use.
If the flooring has a durable finish, it would most likely be fine to use steam cleaning systems. It's always a good idea to test the cleaning method on an unseen area to ensure you don't cause damage to the entire flooring. Frequent steam cleaning could cause damage to even the most durable hardwood flooring, so keep it to a minimum.
Steam cleaners are only for flooring.
Steam cleaning is a very versatile cleaning method that may be used for all sorts of things, including, furniture, car upholstery, counters and tabletops, mattresses, and even bathroom or kitchen faucets. In fact, superheated steam cleaned faucets have one-tenth as many germs as faucets that were cleaned with traditional methods.
There are also variations of commercial steam cleaning machines that use dry ice blasting, or carbon dioxide blasting. This method accelerates dry ice in a pressurized air stream, which is directed at something to be cleaned. This is often used in medical environments as well as in the food industry.
Steam cleaning is a method that can be used to eliminate germs and bacteria on almost anything. A personal or commercial steam cleaning machine is a great investment that will not only keep your home or business clean, but will also contribute to keeping people in the area healthier.