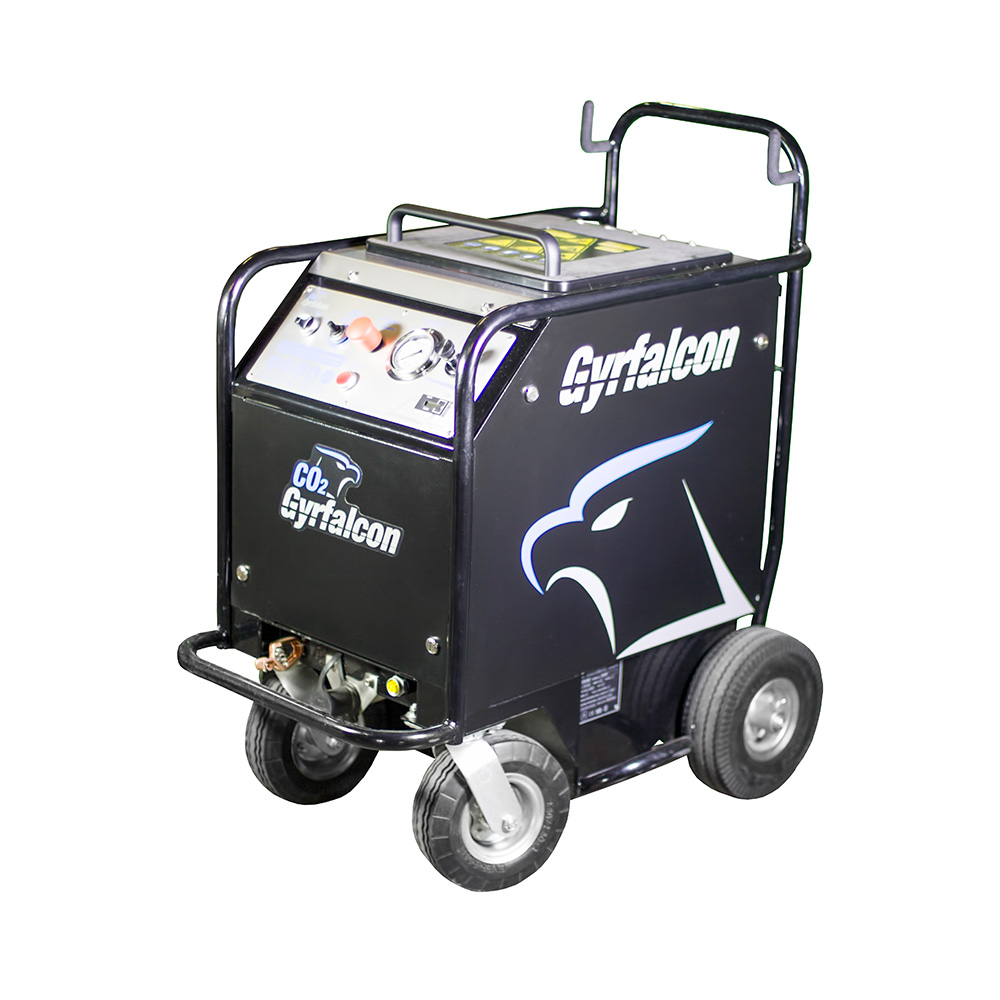 Now Available for Rent in Texas!
The Gyrfalcon dry ice blaster provides the user with the most effective way to deliver dry ice pellets at the highest pressures possible without damaging the underlying surface. This arctic warrior operates at up to 250PSI, higher than any other dry ice blaster. The ability to work at these higher pressures allows the operator to maximize the kinetic energy effect without damaging the underlying surface in almost any application on the toughest dirt. You can also work at pressures as low as 50 PSI for the most delicate environments.
The patent-pending hopper and dry ice delivery method eliminates the freeze-up found on other dry ice equipment. The engineers designed this machine to continue working even in the most demanding environments!
The Gyrfalcon's patent-pending Never Freeze hopper and delivery system keep you up and running during critical times of cleaning. The spun stainless steel hopper and vibratory system keep the unit running without the need for the operators to stop and break up an "ice jam" as may happen with other units.
The rotor system design assures that the unit doesn't clog and keeps the unit frost-free in even the most severe and intermittent use environments. The Gyrfalcon even adds an industry exclusive onboard water separator to supplement your facility's in-line air drier. This assures you don't mix moist compressed air with your -109°F dry ice!
Welding Fixtures
Weight
234 lbs (106kw) w/hopper, 198 lbs (90 kw) w/o hopper
Hopper Capacity
55 lbs (25kg)
Dry Ice Consumption
0 - 425 lbs/hr (0-193 kg/hr)
Dry Ice Pellet Size
Aprprox. 1/8" (3mm) diameter, CO2 "blasting rice"
Recommend Air Supply
100 PSSI @ 200 scfm+ (5.5m3/min)
Air Supply Pressure
50-250 psi (3.4-17.2 bar)
Blasting Pressure
50-250 psi (3.4-17.2 bar)
Compressed Air Connection
1" JIC Fitting. air must be clean & dry. A moisture seperator is included on the machine.
Air Consumption
75-350 cfm
Power Consumption
110-140 V AC (50/60 Hz) 4.8 A. Also available in single phase 220 V, AC 50-60Hz. CE approved.
Noise Level
60 - 120 dB(A) (varies). Ear & eye protection required.