The Peregrine 1800 SV represents state-of-the-art technology in new generation dry vapor steam generators. The 1800 SV combines the most powerful patented boiler system (Intelligent Boiler Technology) with a commercial-grade vacuum. This machine goes everywhere, does everything asked of it, and comes back for more the next day. This Peregrine unit allows the operator to make one pass to clean, sanitize, and remove the resulting lifted debris and disinfected byproduct. It comes with a complete professional-grade tool kit so you are prepared for any application or requirement.
Control Handle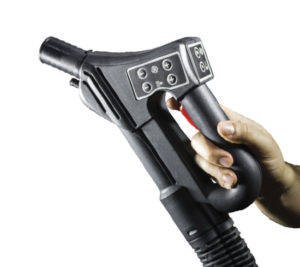 The 1800 SV is ideal for ANY application where there is a need to remove tough soils, greases, and biological contaminants safely and efficiently. Food manufacturers use this unit for quick clean-up of small production equipment. Food service applications use it to deep clean their kitchens and to degrease the floors rather than use chemicals, hot water, or mops. Industrial customers use this Peregrine model in all types of applications as it tackles the worst soils and grease in half the time of conventional methods.
The Peregrine 1800 SV is also the basis of our industry-leading restroom-cleaning platform. For years the best cleaning method was to saturate the restroom with chemicals and pressurized water. While effective, this method causes excessive downtime, a requirement to remove large amounts of tramp water and wet fixtures, and surfaces that the customer doesn't want to touch. Today, many bathrooms have moved away from tile walls that allow the use of this equipment in favor of less expensive dry wall. Mix the large quantities of water this type of cleaning produces and drywall-type construction and you get a real mess on your hands. The Peregrine restroom cleaner eliminates these problems and allows you to provide a clean, dry environment for your customers as soon as you leave the area.
Try the Peregrine restroom kit and see your restroom complaints evaporate like dry vapor steam in minutes.
LCD Control Panel

THE HEART OF THE SYSTEM
The Peregrine series features boilers that are state of the art technology
that takes steam generators into the main stream of cleaning.
The dual coil element maximizes surface area and provides a speedy
"heat-up" time. The steam pressure and temperatures remain consistent,
even under continuous use. The Peregrine features our patented
INTELLIGENT BOILER TECHNOLOGY that tells you when it
needs descaling and provides the highest steam temperatures in its
class. IBT allows any operator to perform the descaling maintenance
to maintain optimum performance without the need for service parts.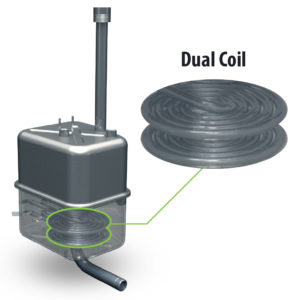 Features include:
Intelligent Boiler Technology
Dual coil boiler
Continuous use ( no need to turn off or lose pressure to add water)
Low voltage (on handle) 5V
3 levels of steam output
3 levels of vacuum suction (standard wet/dry vacuum)
Steam and Vacuum LCD control panel
Digital readout of steam/pressure and vacuum functions
Detergent injection function
All steam/detergent/vacuum functions can be controlled from the handle
Visual and audible warning alerts for water and detergent
Patented 2 piece insulated wand design
4 castor swivel wheels with brakes
Folding handle and removable tool caddy for compact storage
Easy maintenance procedure
Complete steam and vacuum tool kit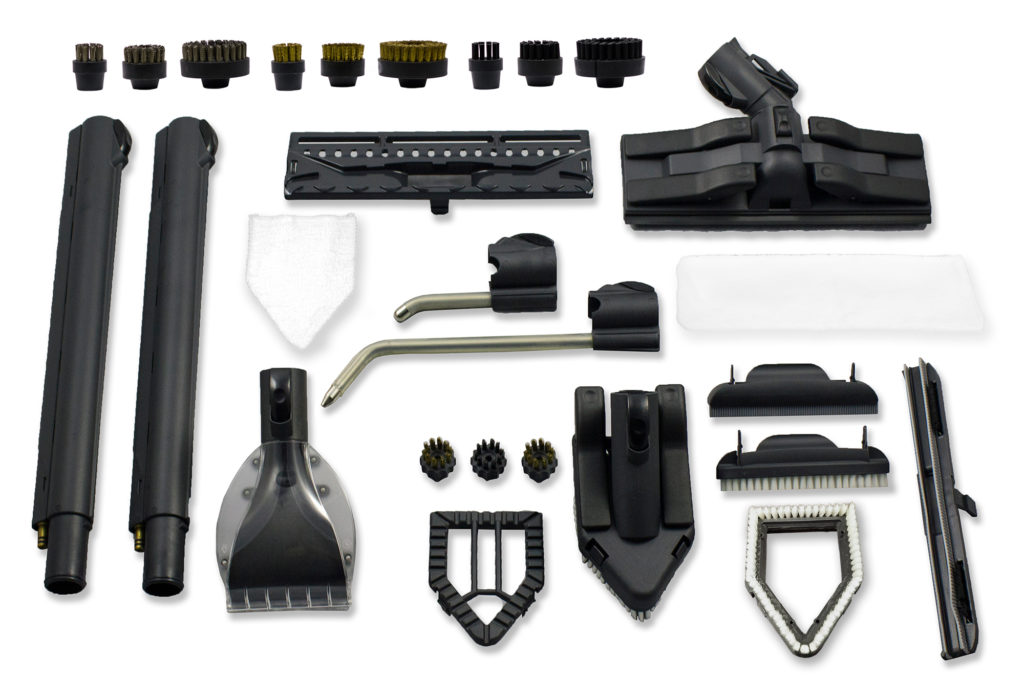 Applications include but not limited to:
Restroom sanitation
Tile and grout cleaning
Contract cleaners
Bed bug elimination
Restaurant cleaning and restoration
Hospitality
Car detailing
Hard floor surfaces
Mold removal
Pharmaceutical
Upholstery
How to use your Peregrine 1800 SV
Peregrine Steam & Vacuum Kit
Power Requirement
120 Volt, 60 Hz
Intelligent Boiler Technology
Yes
Boiler Construction
AISI 304 Stainless
Vacuum Type
Standard Wet/Dry
Complete Steam & Vacuum Tool Kit
Yes
Dimensions (L x W x H)
28" x 15" x 37"
Shipping Dimensions (L x W x H)
47" x 40" x 44"