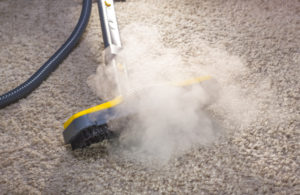 If you're struggling to keep large machinery clean, as well as certain areas and specific rooms inside a home or building sanitary, you should seriously consider the Peregrine series dry vapor steamers. These steamers can be extremely effective against all kinds of dirty materials.
Steam can effectively kill wholly 99% of common household bacteria and germs like E. Coli, salmonella, staph, dust mites, bed bugs, and other dirty contaminants, and high quality dry vapor steam cleaning systems can accomplish even more than that.
"Steam has been an effective cleaning and sanitizing solution for well over 140 years — long before chemical solutions were introduced," said Eric Downing, Vice President of sales for Falcon ProSolutions, the distributor of the Peregrine series dry vapor steamers. "Healthcare and food manufacturing operations have been successfully using large-scale steaming processes for decades. With the new Peregrine 1800-XD, cleaning professionals everywhere can now achieve the same power and performance of these big steam units, only from a compact, easy-to-use, highly affordable machine."
Here are four benefits of this innovative cleaning system:
High performance — The powerful vacuum system attached to the Peregrine allows for an extremely effective steam clean. The air comes from the tank and eventually goes through a by-pass vacuum that is filtered and exhausted through a ULPA filer.
Doesn't require too much maintenance — A lot of steamers on the market today are in need of constant repair, and they don't always work as well as they should. With Falcon ProSolutions' products, however, little maintenance is required. The Intelligent Boiler Technology actually informs the user when the steamer needs descaling or maintenance before any damage has occurred.
Extremely safe to use — Dry vapor steam has always been a safe product, and the Peregrine steamer was designed with user safety in mind. Each product is installed with a safe-hose connection that ensures the hose-to-machine match is perfect . In fact, this feature will not allow the machine to operate if anything is incorrectly connected.
Long-Lasting and durable — In the past, steamers could only be used for a few moments at a time because the system would get too hot. The Peregrine lets users comfortably operate the steamer and will last for an exceptionally long life.
Clean faster, clean safer, and clean better. If you want to learn more about the Peregrine series dry vapor steamers, contact Falcon ProSolutions today!