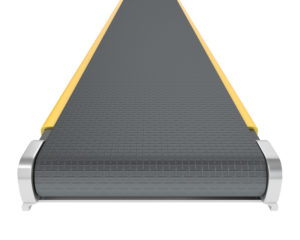 Conveyor belts are used in countless industry sectors to improve manufacturing efficiency. They're commonly utilized in food manufacturing applications and therefore require sufficient cleaning. Simply put, there are three main types of hazards or contaminants that can cause unsafe food: Biological, chemical, and physical. Biological includes microorganisms; chemical includes cleaning solvents and pest control; and physical means hair, dirt, or other matter. Without addressing these food contaminants during cleaning, you could wind up making some mistakes that delay productivity and have the potential to cause contamination. Without further ado, here are just a few conveyor belt cleaning mistakes that could impact your business's bottom line.
Not Addressing 'Carryback'
'Carryback' is the term used to describe a common issue during conveyor belt cleaning. It occurs when bulk solid materials become stuck to the belt and cause an accumulation of hard to reach material under the belt's mechanical components. When the buildup accumulates, it continues to stick to the inner workings of the belt including the return roller, bend pulleys, and snub pulleys. If you notice this occurring on your conveyor belts, it's critical to address it immediately for minimal contamination.
Not Cleaning Often Enough
There's no magic number when it comes to how often you should clean your conveyor belt. What's important is that you set a routine and stick to it. Skipping even one cleaning session could cause serious issues for scheduling and productivity if employees have to take time out of the next day to do some extra cleaning.
Not Using the Right Cleaning Methods
Finally, it's important to clean your belts properly, especially if you're experiencing carryback. Many experts agree that the most efficient way to clean conveyor belts and many other manufacturing areas is with industrial steam generators. Steam cleaning systems eliminate chemical residues while sanitizing the surface being treated. Because so little water is consumed, approximately 1.5 quarts per hour, it's virtually "mess free". Steam cleaning also reaches the inner workings of the conveyor belt, effectively eliminating carryback buildup. If you're not using industrial steam generators as part of your conveyor belt cleaning routine, you may be increasing risk of contamination.
Ultimately, understanding these mistakes can help you maintain a clean manufacturing environment. For more information about industrial steam cleaning systems, contact Falcon Prosolutions Inc.