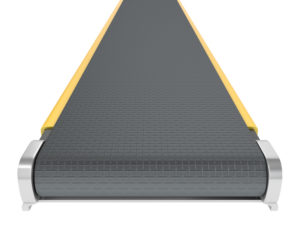 Conveyor belts have been an industrial staple since being introduced in the late 19th century. While we generally credit Henry Ford for his use of the conveyor belt in the Ford Motor Company assembly line, the precursor to the conveyor belt was actually first used in 1892 and developed by Thomas Robbins. A series of inventions eventually lead to the conveyor belt, which was used to carry coal, ores, and other mining materials, revolutionizing the industry completely.
It wasn't until 1913 that Henry Ford introduced the conveyor belt assembly line to his Michigan factory, and through the remainder of the 20th century, the conveyor belt was continuously improved through the implementation of new construction materials and configurations. In the 1950s, the half-twist was introduced in order to allow an even wear of the belt itself, preventing excessive wear of one area of the belt and extending its lifetime. By 1970, the first plastic, modular conveyor belt was developed, which was more resistant to weak overall.
Just recently, conveyor belt manufacturers made yet another breakthrough by developing a solar powered conveyor belt. The company, Wire Belt Company of America, is based in Londonderry, NH, and is credited with supplying belts to high-profile customers like McDonald's, Dunkin' Donuts, Quizno's, Papa Gino's, and Domino's.
Solar power is not an integral part of the company's manufacturing. Previously, its photovoltaic rooftop array was just 100 kW, but has since expanded to 150 kW. These numbers measure the amount of solar energy that can be converted directly to electricity in order to power the conveyor belt systems.
These belts are now used across a variety of industries for numerous purposes. But one thing that they all have in common is that they need to be cleaned. Conveyor belt cleaners are necessary in every industry that uses a belt.
Falcon Pro Solutions Inc. has developed chemical-free steam cleaning systems in order to automate this otherwise tedious task and improve productivity by decreasing down time. Our industrial conveyor belt cleaners are custom-built in order to meet the needs of all of our customers while killing 99% of common germs like E. coli, staph, and salmonella, which are common in the food packaging industry, as well as insects like dust mites and bed bugs.
Improve your assembly line or product handling system by contacting Falcon Pro Solutions today.