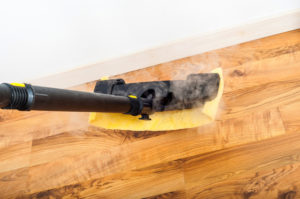 Steam cleaning systems don't leave any chemical residue during surface sanitation because such a minute amount of water is consumed that it leaves almost no trace. Dry vapor steamers are an excellent alternative to chemicals that can damage your skin. But which steam cleaning systems will work best for you?
Handheld Steamer
These little steam cleaners are excellent for any small household job. Couches, windows, kitchen counters, the shower, or any other small area at home you can think of is easily taken care of with a handheld steam cleaner.
Steam Cleaning Mop
Steamer mops pick up where handheld devices leave off. They tackle your tile floors, carpets, or any large area in your home. The only drawback with these is that you'll need to fill them with water fairly frequently if you have a big project.
Cylinder Steamer
Again, cylinder or canister steamers pick up where mops left off. They have a much higher capacity for water, so you'll be able to do most projects on one fill up. Beware of how bulky they are though, especially if you're strapped for space.
Dry Vapor Steamer
Heat is everything. The hyper-heated steam that comes from dry vapor steamers leaves your floor dry just minutes after cleaning. The only drawback is that these units tend to be more expensive, but they also do a much better job of cleaning without a clean-up.
Dry Ice Blaster
This is a bit of a wild card, but dry ice blasters are the driest way to steam clean a surface. These powerful units can clean anything from dirt, grime, and grease to ink, glue, and mold. Though mostly used in industrial settings, a dry ice cleaner is excellent for deep cleaning tough stains.
Whatever your steam cleaning purposes, we can accommodate. By providing you or your company with the right equipment to get the job done, whether that's a little handheld unit or a commercial dry steam cleaner, you will have a cleaner environment for years to come. If you'd like to learn more about the cleanest way to clean, contact us today.